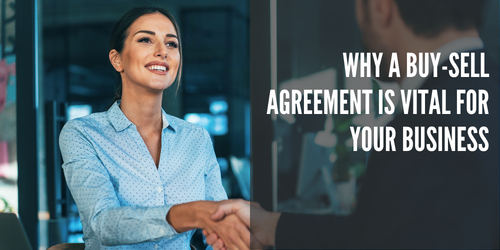 Why A Buy-Sell Agreement Is Vital For Your Business
The purpose of a buy-sell agreement is to establish a set of rules or actions (that are legally binding) for what must happen to a business if one or more of the business owners is no longer involved.
Why does my business need a buy‐sell agreement?
A buy-sell agreement is vital for your business as it protects the shareholders and the business itself if one of the partners exits the business for any reason.
A buy-sell agreement offers so many benefits for your business. It:
Can help maintain the continuity of your business.
Minimize disputes between remaining co-owners and the family of the departing owner.
Decrease stress and uncertainty for all business owners.
Protect business assets and liquidity by including a solid financial and tax plan.
What are the different types of buy-sell agreements?
These are the most common types of buy-sell agreements:
A cross-purchase agreement. In this agreement, each remaining shareholder agrees to buy a percentage of the shares owned by the departing shareholder. The purchase can be funded by life insurance in case of the death of one of the shareholders.
A promissory note agreement. Each shareholder has corporate-owned life insurance in this agreement, and the corporation is the beneficiary. If a shareholder dies, the surviving shareholder(s) use a promissory note to purchase the deceased's shares from their estate. The shareholders then use a capital dividend provided by the life insurance to pay off the promissory note.
A share redemption arrangement. This is similar to the promissory note agreement set up, but no promissory note is involved, and the capital dividend account pays for the deceased shareholder's shares.
What do I need to cover in my buy‐sell agreement?
Your buy-sell agreement must address the following:
Valuation of the company.
Ownership interests.
Buyout clauses.
Terms of payment.
What will happen in the event of any "triggering events.". These events can include a disagreement between business owners, a business owner getting divorced or retiring, a business owner going bankrupt or becoming disabled, or a business partner dying.
What is the best way to fund my buy-sell agreement?
This needs to be addressed when putting the buy-sell agreement together and can be challenging in the case of some "triggers," such as a business owner getting a divorce or a disagreement between business owners.
In the case of the death of a business owner or a business owner becoming disabled, the buy-sell agreement can be funded by insurance. Insurance provides both immediate capital and significant tax benefits.
We Can Help!
Buy-sell agreements can be complex and challenging, but they are vital to protect your business and your personal interests. We can explain the best way to set one up – reach out to us today to get started!
https://truityfinancial.ca/wp-content/uploads/2023/04/Why-a-buy-sell-agreement-is-vital.png
250
500
Truity Financial
https://truityfinancial.ca/wp-content/uploads/2020/10/truityFinancialLogo.jpg
Truity Financial
2023-04-01 06:07:28
2023-04-01 06:07:33
Why A Buy-Sell Agreement Is Vital For Your Business